I believe that Ambassador Stevens not only reaped what he sowed, but that he was sacrificed by TPTB in order to stir up more shit in the Middle East.

I'm sorry the man, and three others, are dead. I'm especially sorry for their families; but the fact remains that Ambassador Stevens was a traitor to this Great Republic, and a traitor to humanity.
In his own words, we hear him speak with pride about helping the "rebels" come to power in Libya. Anyone who watches my show, or any of the other Alternative media outlets, are well aware that those "rebels" were anything but. Hell, most of them weren't even Libyans; the ones who actually killed Gadaffi were CERTAINLY NOT LIBYANS! They were GCC troops, that fact born out by the fact that they are Allah Ackbar-ing with Qatari, Lebanese, Syrian, and Egyptian accents as they shove a K-Bar up Gadaffi's ass before offing him with a signature SpecOps double tap.
No doubt following orders from on high, Stevens went along with (and apparently was very proud of) arming, training, and supporting al-Qaeda terrorists to take over Libya. That fact alone makes him a traitor. Despite its origins al-Qaeda is, at its core, a group or murdering bastards. Even if they are supported by the CIA, which they are, they are still enemies of this country and humanity at large. So supporting them in any way, in my humble opinion, is on par with treason. I'm not normally a violent person, but if you put me in the same room with Hakim Bel-hadj or Hakeem al-Hassidi I'd put a bullet between their eyes before I'd follow orders to support them, and I don't care from how high those orders originated.
As I said I'm sorry he's dead, but he reaped what he sowed. He fell victim to the same AQ terrorists that he helped put into power. He KNEW who they were when he was helping them, so it can not be said that he was unaware of their history or their character. He should have known better than to trust them. It reminds me of the story of the Scorpion and the Turtle.
I'll bet that the ambassador, (well his surviving family anyway) wishes that he hadn't been in bed with terrorists. As they were killing him, I wonder if he tried to save his life by saying, "But I HELPED YOU rise to power! Why are you cutting my throat?
Had something like that actually occurred, I can envision the response he might have received: "Because, it's our nature."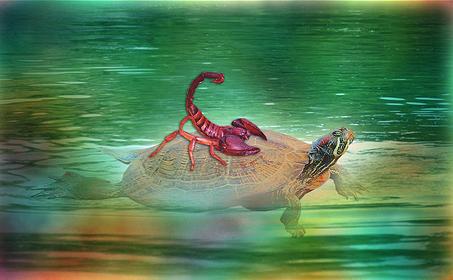 Quote :

A scorpion, being a very poor swimmer, asked a turtle to carry him on his back across a river. "Are you mad?" exclaimed the turtle. "You'll sting me while I'm swimming and I'll drown."

"My dear turtle," laughed the scorpion, "if I were to sting you, you would drown and I would go down with you. Now where is the logic in that?"

"You're right?" cried the turtle. "Hop on!" The scorpion climbed aboard and halfway across the river gave the turtle a mighty sting. As they both sank to the bottom, the turtle resignedly said:

"Do you mind if I ask you something? You said there'd be no logic in your stinging me. Why did you do it?"

"It has nothing to do with logic," the drowning scorpion sadly replied. "It's just in my nature."
This is what happens when you get into bed with Islamic terrorists. Even if they are on "your side", they can not be trusted. Mohammed was famous for making treaties with his enemies only to break them when he saw a tactical advantage, and these maggots are doing their best to be just like the "perfect man."

I also believe that he might have been set up to be killed by our own government. This consulate in Benghazi is probably the ONLY consulate/embassy in the world that had NO MARINES guarding it. He was put into an extremely dangerous position without any backup at all (except maybe for a couple of DoD "contractors" providing private "security.") Why our government would leave our ambassador unprotected like that is something that absolutely boggles my mind. I'm sure that we haven't heard the last of this. Watch this incident to be the spark for something much larger.